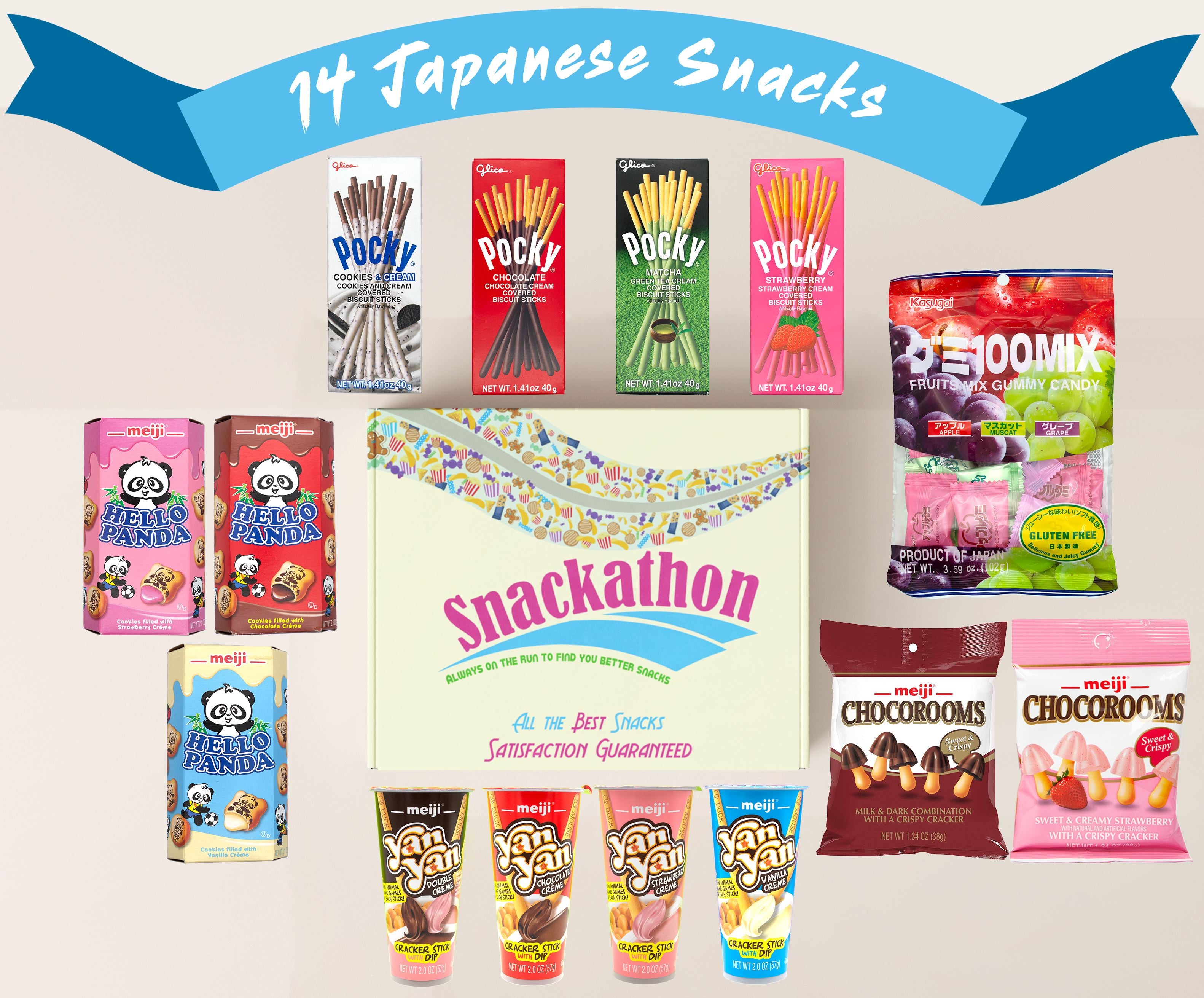 Japanese Snacks Variety Mix Sampler, Office Fun or Little Indulgences (14 Count)
HIGHT QUALITY SNACKS: 14 snacks from prominent Japanese snack manufacturers. These signature snacks are a good introduction to a world of Japanese snacks. On the go snacks, convenient for busy lifestyle. Packed in boxes to protect their fragile nature but sized just right for carrying to work, lunch box or after workout.

OFFICE or GIFTING: Tired of traditional office snack? Want to bring a bit of culture to the group? These snacks are a sure win. Chocolate, Vanilla, Strawberry biscuits come in a variety of size and shape. Center-filled, covered, dipping or chewy fruit gummy, your pick. Perfect gift for special occasions.

MATCHA or MUSHROOM-SHAPED SNACK: Matcha flavor or mushroom-shaped chocolate cracker still amazes those already tried many different snacks. Matcha flavor is a must-try for Japanese snack lovers.

SNACKATHON: Always on the run to find you better snacks.



1 - Pocky Chocolate Cream Covered Biscuit Sticks, 1.41 Ounce
1 - Pocky Strawberry Cream Covered Biscuit Sticks, 1.41 Ounce
1 - Pocky Matcha Green Tea Cream Covered Biscuit Sticks, 1.41 Ounce
1 - Pocky Cookie and Cream Covered Biscuit Sticks, 1.41 Ounce
1 - Meiji Hello Panda Cookie, Chocolate, 2.1 Ounce
1 - Meiji Hello Panda Cookie, Strawberry, 2.1 Ounce
1 - Meiji Hello Panda Cookie, Vanilla, 2.1 Ounce
1 - Yan Yan Cracker Stick with Dip, Chocolate Crème, 2 Ounce
1 - Yan Yan Cracker Stick with Dip, Vanilla Crème, 2 Ounce
1 - Yan Yan Cracker Stick with Dip, Strawberry Crème, 2 Ounce
1 - Yan Yan Cracker Stick with Dip, Chocolate and Strawberry Double Crème, 2 Ounce
1 - Kasugai Fruits Mix Gummy Candy, 3.59 Ounce
1 - Meiji Chocorooms Milk and Dark with a Crispy Cracker, 1.34 Ounce
1 - Meiji Chocorooms Sweet and Creamy Strawberry with a Crispy Cracker, 1.34 Ounce