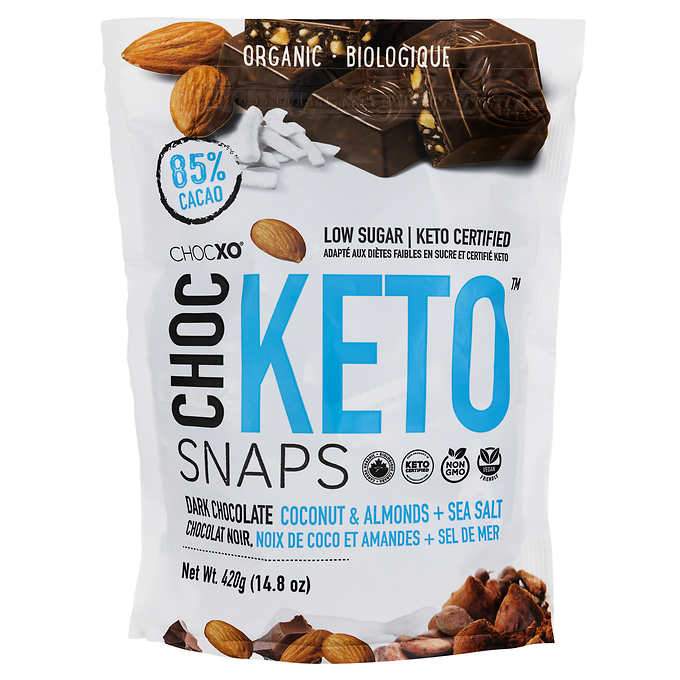 ChocXO ChocKeto Dark Chocolate, Coconut, Almond & Sea Salt Keto Snaps, 14.8 Ounce
ChocKETO Snaps are made with 85% Cacao (Fine Flavour Cacao Beans) Chocolate, and the flavor is remarkable due to the unique origin of the beans. Sugar has been reduced to a mere 15% of total ingredients, making these bars very low in sugar and carbohydrates.
Each of ChocXO's Keto products are certified by a third party as KETO COMPLIANT. To be Keto compliant, a "snack item" portion must contain less than 6 grams of total carbohydrates. By dramatically reducing the natural cane sugar content in their chocolate to a mere 15%, ChocXO's Keto products are well under within the Keto limits, so feel free to snack healthily on up to two (2 bars) of their ChocKETO Snaps, and know you are keeping your sugar and carb intake to a bare minimum.
Each individually wrapped Snap has just 90 calories, 3 grams of carbohydrates with only 2 grams of sugar, there is no healthier way to snack than with a daily dose of these rich dark chocolate coconut almond & sea salt SNAPS. Enjoy guilt-free, the natural goodness of toasted almonds & coconut, with a dash of salt, all blended with our rich organic dark chocolate with an 85% cacao content.

Satisfy your chocolate cravings without the added guilt. Give yourself a big XO.
85% sustainably sourced cacao
Low sugar
Keto certified
Organic
Non-GMO
Gluten-free
Kosher